Janusz Sheagall in 'Mushroom' by Paul Meade, Civic Theatre, 2006. Photo by Toshi Sakauchi.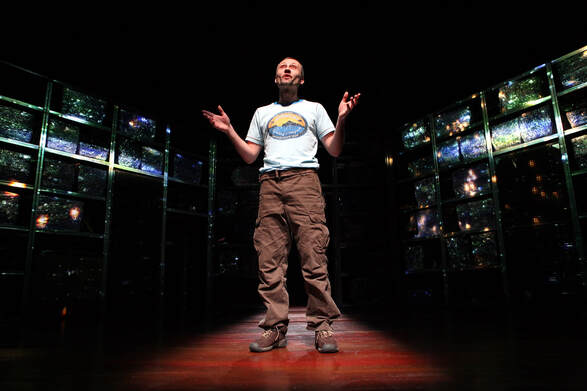 Directing Work
'CRACKED IS A GREAT EXAMPLE OF HOW DEVISED WORK CAN BE OF THE HIGHEST QUALITY…WHAT MAKES THIS PIECE SO DIFFERENT ARE THE VARIABLES OF PERFORMANCE, WHERE THE GESTURE, THE VISUAL AND THE SYMBOLIC, BECOME THE DOMINANT IMPRESSIONABLE ASPECTS. IT CAPTURES THE ENNUI, THE SAVAGERY OF DETENTION, THE RAGE, THE SENSE OF SEDATION AND THE HELPLESSNESS OF THE PATIENTS.'
EAMONN JORDAN, IRISH THEATRE MAGAZINE, ON 'CRACKED' FOR QUARE HAWKS 2002
HEATHER
by Thomas Eccleshare, Bewley's Café Theatre 2019. National tour to Civic Theatre Tallaght, Backstage Longford, Drogheda Arts Centre, Watergate Kilkenny and Riverbank Newbridge in Oct/Nov 2021.
​SHIFTING SANDS
a short film based on the play 'Take Off Your Cornflakes', screenplay by Rose Henderson, DOP Noel Brady, Production Manager Miriam Duffy. Music by Denis Clohessy. Funded by Screen Ireland and Memory House. It have been selected for numerous Film Festivals including Galway Film Fleadh (July 2021), Cork Indie Festival (Sept '21) and Dublin International Short Film Festival (Oct '21)
FUTURE TENSE
a devised piece for Backstage Youth Theatre, performed live between Covid 19 lockdowns throughout the Backstage Theatre building. August/September 2020. The devised plays are now available to youth groups through
PLAYSHARE
at
Youth Theatre Ireland.'A SAVAGE DRAMA. FOR SEVENTY-FIVE MINUTES A HYPNOTIC STAGE CREATION UNFOLDS. THE ORIGINAL MUSIC BY DENIS CLOHESSY ADDS A HAUNTING DIMENSION. THIS IS NEW GROUND FOR STORYTELLERS AND THEY HAVE HARVESTED IT WITH PROFIT.'THE IRISH TIMES ON 'RASHOMON' 2003 TAKE OFF YOUR CORNFLAKES
by Rose Henderson & Pat Nolan. Show-in-a-Bag/Fishamble, Dublin Fringe Festival 2017. National touring 2018 - 2020.
THE COMEDY OF ERRORS
for Dublin Youth Theatre summer show in Smock Alley Theatre, Aug 2018.
​
THE RIVALS
by R.B. Sheridan. Smock Alley main house, Summer Production, Dublin, 2017.
'ECCLESHARE'S PLAY IS THE DRAMATIC EQUIVALENT OF A RUBIX CUBE. EXPERTLY DIRECTED BY LIAM HALLIGAN, THIS PLAYFUL TWO-HANDER BEGINS WITH AN EMAIL THREAD BETWEEN A BOOK PUBLISHER, THE EXCELLENT DERMOT MAGENNIS, AND A FIRST-TIME AUTHOR, PLAYED WITH HESITANT FRAGILITY BY AENNE BARR. WITH A LUSCIOUS SOUNDSCAPE BY DENIS CLOHESSY THIS INTELLECTUALLY TICKLISH PLAY ENTERTAININGLY EXPLORES OUR READINESS TO BELIEVE WHATEVER STORY SUITS US.'

FIONA CHARLETON, THE SUNDAY TIMES, ON 'HEATHER' 10/2/2019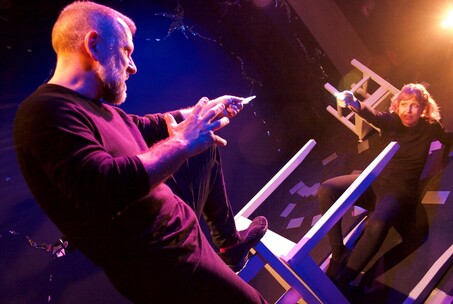 Dermot Magennis, Aenne Barr in 'Heather'. Photo by Angie Steele, 2019.
PYGMALION by G. B. Shaw, Smock Alley main house, Summer Production, 2016.

THE IMPORTANCE OF BEING HONEST BY BILLIE TRAYNOR, BEWLEY'S CAFÉ THEATRE, NATIONAL TOUR. 2016/7.
​
'THIS IS AN ACUTELY OBSERVED PIECE, INSPIRED BY HENDERSON'S FAMILY'S EXPERIENCE, THAT HAS AN AUTHENTIC DIGNITY WHICH AFFIRMS THAT LOVE AND GOOD HUMOUR CAN COEXIST WITH HEARTBREAK. THESE TOPICS REQUIRE SENSITIVE HANDLING AND DIRECTOR LIAM HALLIGAN STEERS A STEADY PATH.'
FIONA CHARLETON, SUNDAY TIMES ON 'TAKE OFF YOUR CORNFLAKES' 2017

HOW TO LIVE by Eimear Cheasty for Carlow Youth Theatre performed in VISUAL Arts Centre Carlow. Won Mayor's Award. August 2016.
​
MARY STUART BY SCHILLER, THE FREEMASON'S HALL, PAGEANT WAGON, DUBLIN. 2015.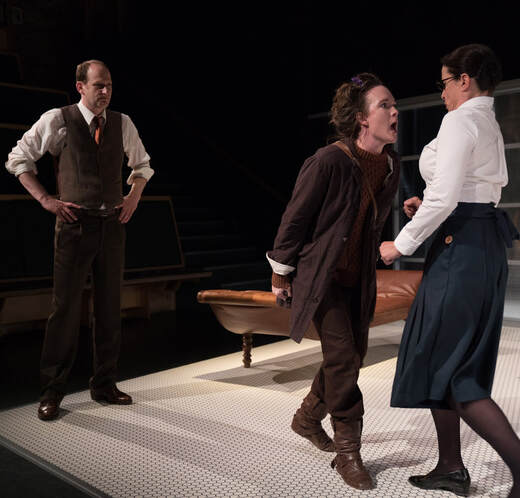 Paul Meade, Anna Shiels McNamee, Tara Quirke in 'Pygmalion', Smock Alley. Photo: Toshi Sakauchi. 2016.
'THE SAVAGERY THAT LIES AT THE ESSENCE OF THE HUMAN PSYCHE IS NEVER DIFFICULT TO IDENTIFY EVEN IN TODAY'S WORLD. THIS PRODUCTION EXPOSES THE PERFORMANCES BEHIND SOCIAL DIVISIONS AND QUESTIONS WHETHER MONEY TAKES MORE THAN IT GIVES. THERE ARE STRONG PERFORMANCES AND ANNA SHEILS-MCNAMEE BRINGS A FRANK IRREVERENCE TO THE CHARACTER OF ELIZA DOOLITTLE, WHICH IS A USEFUL TOOL TO GUARD AGAINST THE EXCESSIVE DRAMATICS OF STAGED HYSTERIA.
SUNDAY TIMES ON 'PYGMALION' 2016

ON CITY WATER HILL BY PHILIP ST JOHN, THEATRE UPSTAIRS, DUBLIN. 2014.

SCABS BY NAOMI ELSTER, THEATRE UPSTAIRS, DUBLIN. 2013.
​
​THE SYLVIA BY PHILIP ST JOHN, COLLABORATIONS FESTIVAL, SMOCK ALLEY, DUBLIN. 2013.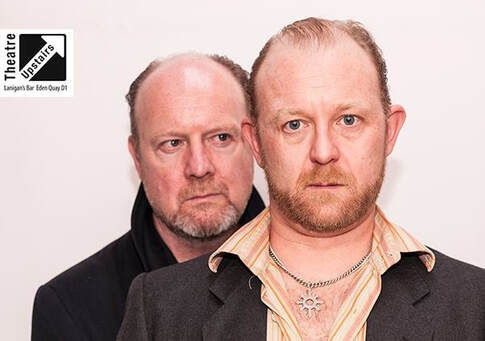 Pat Nolan, Neil Fleming in 'On City Water Hill' Theatre Upstairs. Photo: Eoin Lennon
'LEAVING IS COMPLEX, ADULT AND DRAMATICALLY VIABLE…EXTRAORDINARY REFRESHING. LIAM HALLIGAN DIRECTS WITH EXCELLENT UNDERSTANDING OF THEME AND TEXT.'
EMER O' KELLY, SUNDAY INDEPENDENT, ON 'LEAVING' 2002
​
TOWN & COUNTRY BY GARY DUGGAN, Gaiety School of Acting, graduation production, SMOCK ALLEY, DUBLIN. 2013.

HOLY MARY BY EOIN COLFER, BELWEY'S CAFÉ THEATRE, ARTS COUNCIL FUNDED NATIONAL TOUR AND KILKENNY ARTS FESTIVAL. 2011.
​
THE BELLE BOTTOMS BY EOIN COLFER, DUBLIN FRINGE AND WEXFORD OPERA FRINGE. 2012.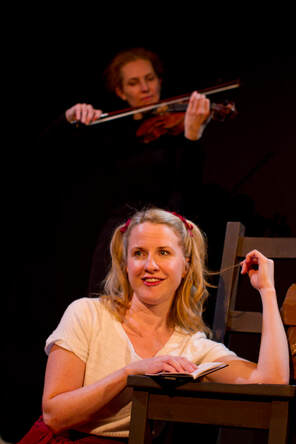 Aileen Mythen, Iseult Golden in 'Holy Mary' Kilkenny Arts Festival. Photo: Toshi Sakauchi.

LAST YEAR BY GAVIN KOSTICK, FISHAMBLE SHOW-IN-A-BAG, DUBLIN FRINGE. 2011.

ANOTHER TWIN BY AUSTRALIAN WRITER LALLY KATZ, GAIETY SCHOOL OF ACTING, graduation show, SMOCK ALLEY THEATRE. 2012.
​
TOXIC BY MICHELLE REID, PROJECT ARTS CENTRE DUBLIN. GSA graduation production 2011.

'JACK HARTE IS LIABLE TO FACE CALLS FOR HIS BURNING AT THE STAKE FOR HIS FIRST PLAY. THE PLAY'S PASSION TO DE-BUNK BLOOD SACRIFICE IS AS FIERCE AS IT IS SALUTARY…IT CUTS TO THE HEART. THIS IS AN IMPORTANT PLAY, AND DESERVES SOME SERIOUS OBJECTIVE CONSIDERATION.''
EMER O'KELLY, SUNDAY INDEPENDENT ON 'LANGUAGE OF THE MUTE' 2017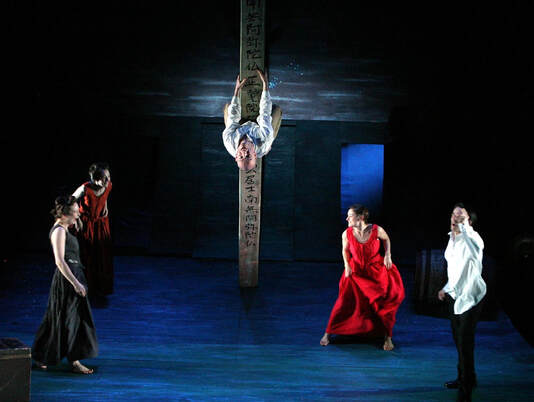 Aoife Malony, Diane O'Keeffe, Conan Sweeny, Maria Tecce, Colin O'Donoghue in 'Dream of a Summer Day' National Tour. Photo: Toshi Sakauchi.
​
ARTISTIC DIRECTOR STORYTELLERS 2004 TO 2008:-
​
THE DREAM OF A SUMMER DAY by Liam Halligan BASED ON THE LIFE AND WORKS OF LAFCADIO HEARN, NATIONAL TOUR. NOMINATED FOR IRISH TIMES THEATRE AWARD FOR BOTH COSTUME AND LIGHTING. 2005.

THE TURN OF THE SCREW BY HENRY JAMES, ADAPTED BY LIAM HALLIGAN, CIVIC THEATRE AND NATIONAL TOUR. 2008.
​
THE CROCK OF GOLD BY JAMES STEPHENS, ADAPTED & DIRECTED BY FIONA BUFFINI, OLYMPIA THEATRE DUBLIN, NATIONAL TOUR. 2006.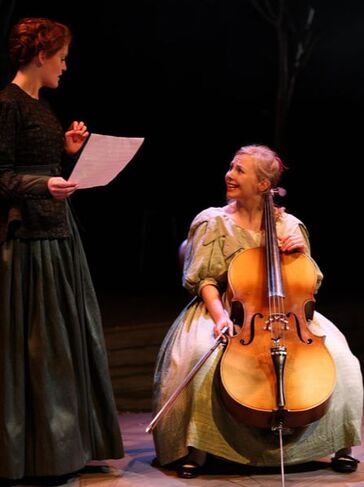 Ruth McGill and Helen Connolly in 'The Turn of the Screw' Storytellers, National Tour. Photo: Toshi Sakauchi.
MUSHROOM by PAUL MEADE. INSPIRED BY MEETINGS WITH POLISH AND ROMANIAN PEOPLE LIVING IN CO. MONAGHAN. NATIONAL TOUR. 2007.

THE RED HOT RUNAWAYS BY MARY ELIZABETH BURKE KENNEDY, CIVIC THEATRE, DUBLIN. 2006.

A MIDSUMMER NIGHT'S DREAM CO-DIRECTED WITH LAWRENCE EVANS, STORYTELLERS/ THE IRISH CHAMBER ORCHESTRA. THE PRODUCTION PERFORMED TO FULL HOUSES IN CONCERT HALLS IN LIMERICK, CORK AND AT THE NATIONAL CONCERT HALL DUBLIN. 2008.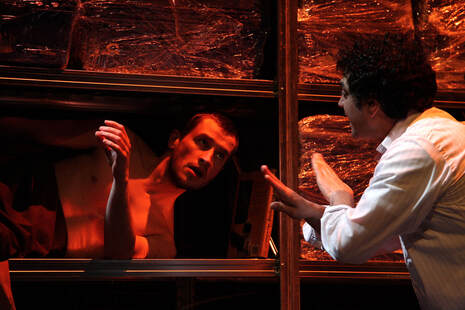 Carl Kennedy, Dan Tudor in 'Mushroom' Storytellers, National Tour. Photo: Toshi Sakauchi.
YOUTH OUTREACH PROGRAMME DEVISED AND FACILITATED VERY POPULAR WORKSHOP ON SHAKESPEARE'S TEXTS FOR SECOND LEVEL STUDENTS THROUGHOUT THE COUNTRY.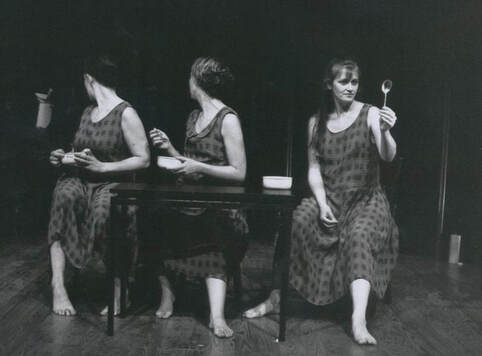 Dawn Fleming, Diane O'Keeffe, Liz Keller in 'Cracked' Quare Hawks, National Tour. Photo: Ken Wardrop.
FOUNDER and ARTISTIC DIRECTOR QUARE HAWKS THEATRE Co. 2000 TO 2004.
LIAM FOUNDED THIS TOURING THEATRE COMPANY WHICH MADE A VERY STRONG IMPACT WITH NEW SOCIALLY RELEVANT WORK RECEIVING ARTS COUNCIL PROJECT FUNDING. ​

CRACKED A DEVISED PIECE BASED ON THE LIVES OF WOMEN IN ST. LOMAN'S MENTAL HOSPITAL MULLINGAR., TWO NATIONAL TOURS. 2001/2.

WINTER CAME DOWN COMMISSIONED FROM MICHAEL MCCUDDEN, BASED ON WORKSHOPS WITH RURAL COMMUNITY GROUPS FROM the MONAGHAN / ARMAGH BORDER. FUNDED BY EU PEACE & RECONCILIATION FUND. NOMINATED FOR A STEWART PARKER AWARD 2003.
​
THE UNDERTAKING BY PHILIP OSMENT, ANDREW'S LANE, Dublin & NATIONAL TOUR. 1999/2000.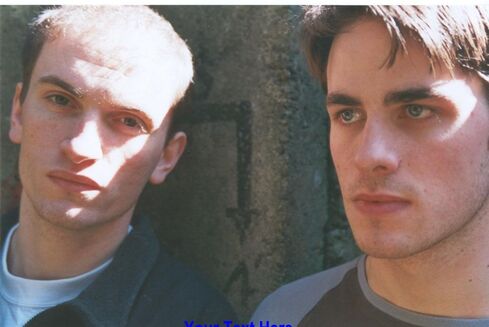 Conan Sweeny and Colin O'Donoghue in 'Leaving' Quare Hawks. National Tour. Photo: Ken Wardrop.
LEAVING COMMISSIONED FROM PHILIP OSMENT. BASED ON INTERVIEWS WITH PEOPLE EFFECTED BY YOUNG MALE SUICIDE. TWO TOURS.

SPEAKING IN TONGUES BY AUSTRALIAN WRITER ANDREW BOVELL. CO-PRODUCTION WITH CIVIC THEATRE . NATIONAL TOUR. NOMINATED FOR AN IRISH TIMES THEATRE AWARD AS BEST DIRECTOR 2004.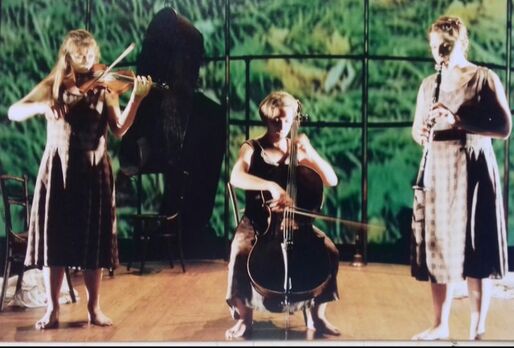 Liz Keller, Diane O'Keeffe, Dawn Fleming in 'Cracked' Quare Hawks. Photo: Ken Wardrop.
OTHER FREELANCE DIRECTING

LESS THAN A YEAR by HELENA ENWRIGHT. A VERBATIM PIECE, ISLAND THEATRE COMPANY, Limerick. 2006.

RASHOMON ADAPTED FROM STORIES by RYUNOSUKE AKUTAGAWA , STORYTELLERS, PROJECT ARTS CENTRE
DUBLIN, NATIONAL TOUR, 2004. NOMINATED FOR AN IRISH TIMES THEATRE AWARD AS BEST DIRECTOR.

NIGHT SHIFT BY IOANNA ANDERSON, PROJECT ARTS CENTRE, DUBLIN . GAIETY SCHOOL GRADUATION PRODUCTION. 2005.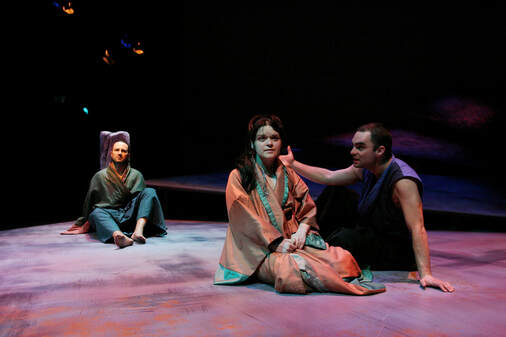 Malachi McKenna, Emma Colohan, Eoin Lynch in 'Rashomon' Storytellers. National Tour. Photo: Ros Kavanagh.
BARDS IN THE YARD FOR THE NATIONAL ASSOCIATION OF YOUTH THEATRE, DUBLIN CASTLE. 2003.

HARD TIMES BY CHARLES DICKENS, ADAPTED BY MARY ELIZABETH BURKE KENNEDY, STORYTELLERS, NATIONAL TOUR. 1998.
​
ANNA CHRISTIE BY EUGENE O'NEILL, FOCUS THEATRE DUBLIN. 1998.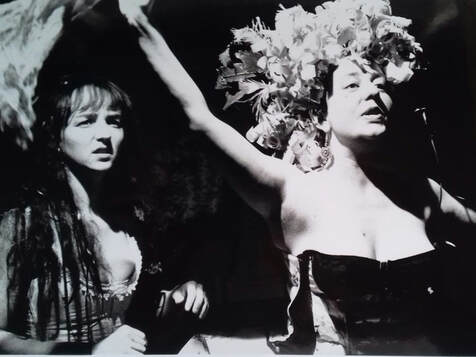 Victoria Willing, Mary Ryan in 'The Love of Don Perlimplin for Belisa in the Garden'. Photo: Walter Van Dijk.
SMALL BOX PSYCHOSIS by BARRY MCKINLEY, Andrew's Lane Theatre Dublin and Edinburgh Fringe Festival. 1996.
THE LITHIUM WALTZ by BARRY MCKINLEY, Andrew's Lane Theatre Dublin 1997.
MIRANDOLINA by CARLO GOLDONI, Galloglass Theatre Company , National Tour. 1996.
AN IDEAL HUSBAND by OSCARWILDE, GALLOGLASS THEATRE COMPANY, NATIONAL TOUR and ANDREW'S LANE, DUBLIN. 1996/7.
THE CRACK AND THE WHIP by COLIN TEEVAN Galloglass, National Tour. 1997.
THE LOVE OF DON PERLIMPLIN FOR BELISA IN THE GARDEN by FEDERICO GARCIA LORCA adapted by DAVID JOHNSTON , OLD RED LION THEATRE, LONDON 1994.
A KURT WEILL CABARET BATTERSEA ARTS CENTRE, YOUNG VIC THEATRE, LONDON and STADSSCHOUWBURG, AMSTERDAM. 1992.
Artist-in-Residence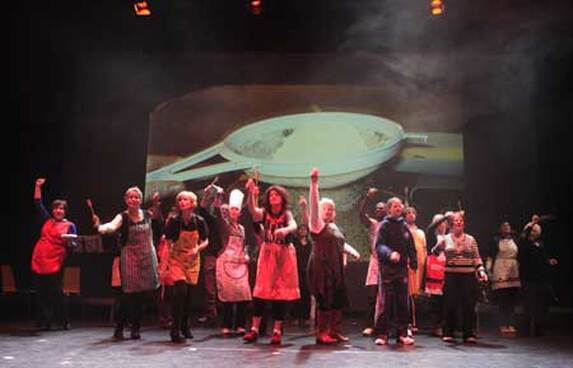 Photo by Liam Halligan from 'You Yes You' at Draíocht.

Liam was awarded an Artist in Residence position at Draíocht Arts Centre Blanchardstown in 2012.
He worked with over forty people aged from 18 to 86, drawn from the local Dublin 15 community.
Over the period of a year he devised a piece with the group called
YOU YES YOU combining verbatim text, improvisation and song.