ACTING WORK
includes...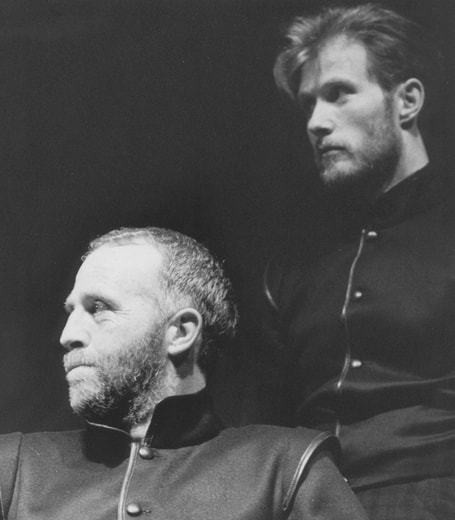 Photo: Liam and Keith Bartlett in Cheek By Jowl's Olivier Award winning 'Macbeth' at the Donmar Theatre, London. Directed by Declan Donnellan, 1987.
Cheek By Jowl's Macbeth, London, 1987/8

"Declan Donnellan's dark, spare and forceful production is technically the most sophisticated in the company's short history…their storytelling technique is one of the surest in British Theatre today...with such a Malcolm (Timothy Walker), a Macduff (Des McAleer) and a Ross (Liam Halligan), the English scene is unusually strong.'
Michael Radcliffe, The Observer, 08/11/87

'Cheek By Jowl's bold, Orwellian-look production is powerful and passionate. The whole company is excellent... with outstanding portrayals from Liam Halligan as Ross and Des McAleer doubling as Duncan and Macduff.'
Bill Anderson, The Stage, 22/10/87
​
Stage Work includes...
​
Teddy in 'Big Maggie' by John B. Keane directed by Gwenda Hughe at Birmingham Rep, 1993.
Keie in 'The Round Table' directed by Olivia Fuchs at the Lyric Theatre Hammersmith, 1992.
Bentham in 'Juno and the Paycock' directed by James Macdonald, Contact Theatre Manchester, 1991.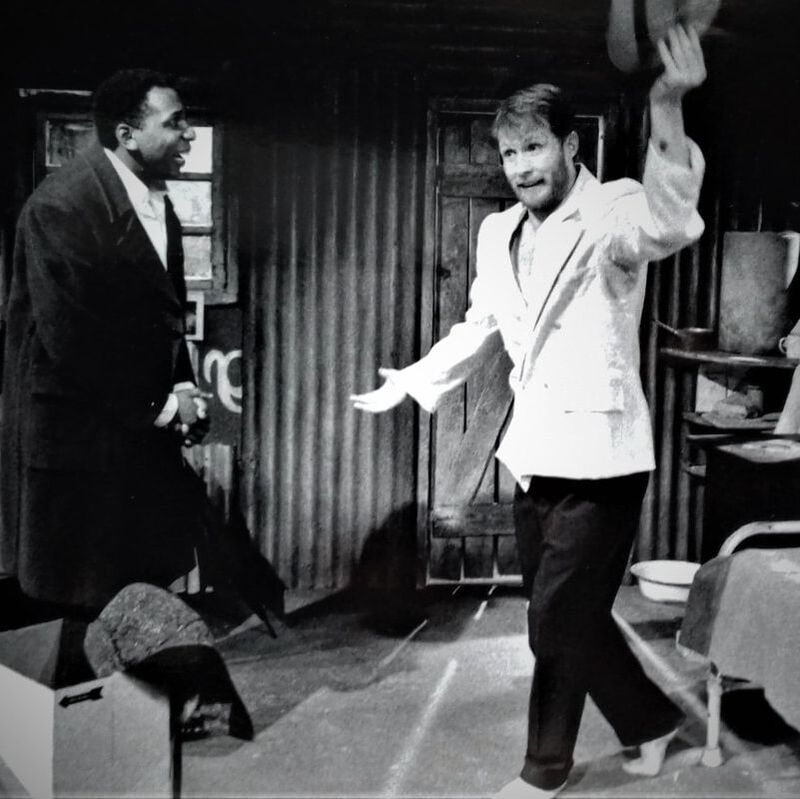 Liam and Colin McFarlane in Derby Playhouse's 'Blood Knot' by Athol Fugard. 1990
'Blood Knot' Derby Playhouse 1990
​
'An excellent cast... Liam Halligan plays the earnest Morris and his sincerity is never in doubt. His underplaying through most of a tense evening makes his final violent outburst all the more shocking and effective.'
The Stage 25/01/90

'Liam Halligan gives a moving performance of a man who wears his guilt for being more white than black like a hair-shirt.'
Georgina Brown, The Independent, 18/01/90
PLAYED W.B. YEATS IN 'BOHEMIAN LIGHTS' BY RAMÓN DEL VALLE INCLÁN , DIRECTED BY LAURENCE BOSWELL, GATE THEATRE, NOTTING HILL, LONDON, 1991.

THE MASTER IN 'THE MASTER AND MARGARITA' DIRECTED BY GUY RETALLACK, BATTERSEA ARTS CENTRE, LONDON, 1991.

​MORRIS IN FUGARD'S TWO-HANDER 'BLOOD KNOT' DIRECTED BY TOPHER CAMPBELL, DERBY PLAYHOUSE, 1990.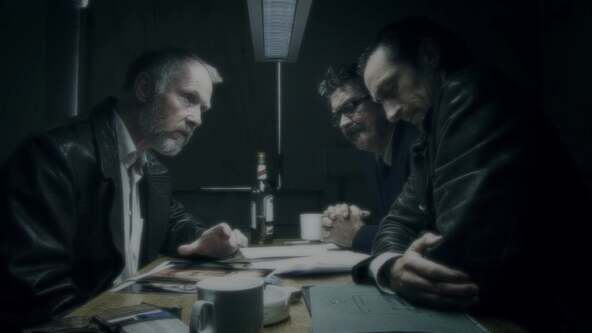 Liam, Frank O'Sullivan, Marcus Lamb in 'Banshee Blacktop' directed by Sean James Garland.

'Bohemian Lights' Gate Theatre, London 1993

'Tony Rohr has rock solid support from a cast which includes
Liam Halligan playing W.B.Yeats.'
​Michael Billington, The Guardian, 12/09/93
​PLAYED THE PORTER IN 'THE PIGGY BANK' BY EUGENE LABICHE, DIRECTED BY SUSAN TODD AT THE GREENWICH THEATRE, LONDON, 1989.

HOTSPUR IN 'FALSTAFF' (SHAKESPEARE), DIRECTED BY RICHARD WILLIAMS, OXFORD STAGE COMPANY, 1988

​PLAYED ROSS IN DECLAN DONNELLAN'S OLIVIER AWARD WINNING 'MACBETH' FOR CHEEK BY JOWL, UK TOUR, DONMAR LONDON AND LYRIC THEATRE HAMMERSMITH, 1987/8.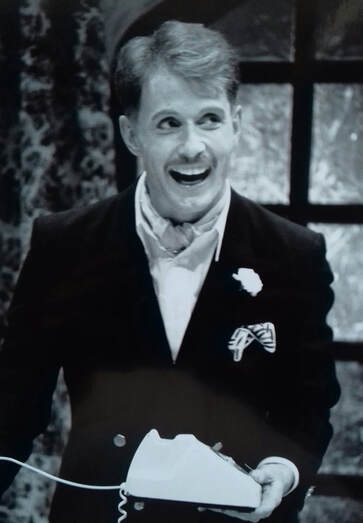 Liam in 'Noises Off' directed by Annie Castledine at Derby Playhouse.

'Translations' Theatr Clwyd, 1986
​
'I felt not a moment's slackening of emotional tension between the actors. Every nuance, flick of the eye, and angle of the head had a rare kind of dramatic integrity which welded into a compelling collective performance.'
Francesca Turner, The Guardian, 27/03/86
PLAYED THESEUS/OBERON IN 'A MIDSUMMER NIGHT'S DREAM' DIRECTED BY PHYLLIDA LLOYD FOR THE EVERYMAN THEATRE, CHELTENHAM, UK. 1986.

EILERT LOVBORG IN 'HEDDA GABLER' DIRECTED BY ANNIE CASTLEDINE FOR THEATR CLWYD , 1986.

OWEN IN BRIAN FRIEL'S 'TRANSLATIONS' DIRECTED BY ANNIE CASTLEDINE FOR THEATR CLWYD, 1985.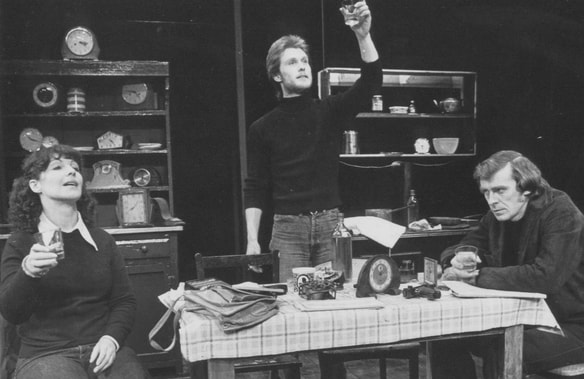 Photo: Stella McCusker, Liam Halligan, Ian McElhinney in Eugene McCabe's 'Victims', The Lyric Theatre, Belfast.
'A Collier's Friday Night' Focus Theatre 1978

'Liam Halligan plays the student son – and here, unless I am woefully mistaken, we saw a fine young talent unfolding.'
Con Houlihan Evening Press 14/06/1978
PLAYED THE SOLDIER IN 'THE SOLDIER'S TALE' DIRECTED BY YAIR VARDY FOR THE ENGLISH DANCE THEATRE, 1984.

THE BELLMAN IN LINDSAY ANDERSON'S 'THE PLAYBOY OF WESTERN WORLD' FOR UNITED BRITISH ARTISTS, 1984.

Hovstad in 'An Enemy of the People' directed by Jonathan Petherbridge, Duke's Playhouse, Lancaster, 1983.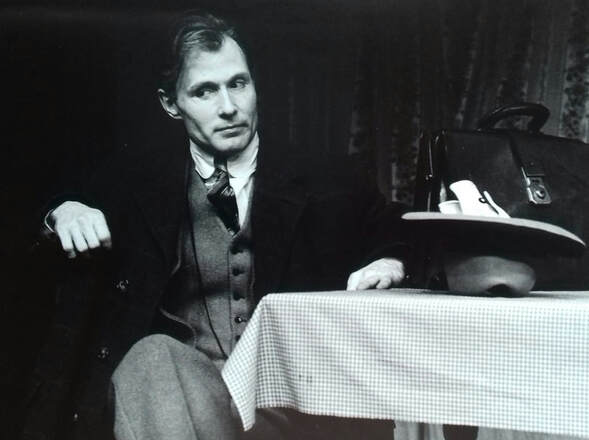 Liam as Bentham in 'Juno and the Paycock' directed by James Macdonald, Contact theatre, Manchester, 1991.
'The Ikon Maker' by Des Hogan, Gate Theatre London 1980/81

'An excellent performance by Liam Halligan.'
Maeve Binchy, The Times 02/01/1981

'Liam Halligan and Mary Duddy's heart-felt performances remind you
​that the play is about people, not types.
Nicholas de Jongh, The Guardian 02/01/1981
PLAYED JAMES IN THOMAS KILROY'S VERSION OF 'THE SEAGULL' DIRECTER: MICHAEL JOYCE, LYRIC THEATRE BELFAST, 1983.

ANDY IN 'DAN PADDY ANDY' BY JOHN B. KEANE DIRECTED BY SEAN MCCARTHY, GATE THEATRE, DUBLIN, 1981.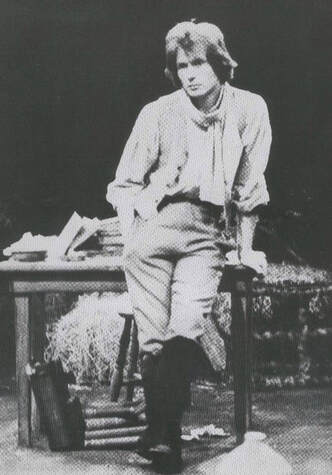 Liam as Owen in Brian Friel's 'Translations' directed by Annie Castledine at Theatre Clwyd. 1985.
Ibsen's 'Ghosts' Focus Theatre Dublin 1985

'The scenes between Mrs Alving and her hapless son are splendidly performed. There is playing of some exceptional order from Liam Halligan as Oswald. His nervy, frenetic progression to the tragedy that overwhelms him is beautifully judged.'
Desmond Rushe, Irish Independent, 07/05/85

'Director Ann O'Driscoll coaxes from Liam Halligan perhaps the finest performance of his career, it is true to Ibsen in every respect and is never exaggerated. Deirdre O'Connell, as his mother, revels in the taut drama. Between them, they manage to make the evening exceedingly rewarding, occasionally extraordinarily moving.'
Gus Smith, Sunday Independent, 12/05/85
PLAYED CLAUDE DE PUSSY IN 'THE CAT'S OPERA' DIRECTED BY BEN BARNES, PEACOCK THEATRE, DUBLIN, 1981

THE SINGER IN O'CASEY'S 'RED ROSES FOR ME' DIRECTED BY SIR HUGH HUNT, ABBEY THEATRE, DUBLIN, 1980.

Roles with the Focus Theatre Company Dublin include: - Ernest in D.H.Lawrence's 'A Collier's Friday Night'; Oswald in Ibsen's 'Ghosts'; The Husband in 'Schnitler's 'La Ronde'; Lingstrand in Ibsen's 'The Lady From the Sea' and Polly the Clown in Leonid Andreyev's 'He Who Gets Slapped'.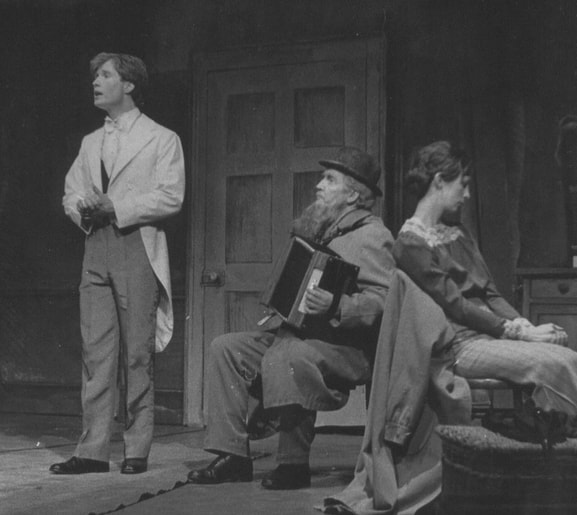 Photo: Liam in 'Red Roses for Me' with Ray McAnally and Ingrid Craigie, d

irected by Sir Hugh Hunt,

Abbey Theatre, Dublin.
'Peer Gynt' Cracked Mirror, DOC Theatre Club London 1989

'Young Peer, played by Liam Halligan, with a seraphically gleeful smile, adroitly manages the shifts between bragging and self-doubt.'
Jeremy Kingston, The Times 20/02/88

'A bravura performance from Liam Halligan as Gynt, progressing from wild, reckless youth to melancholic old age.'
Paul Davies, City Limits, 22/02/88
​
FILM AND TELEVISION INCLUDES...
​
The Father in the two-hander 'HER EIGHTEENTH BIRTHDAY' by Natalya O'Flaherty, directed by Paul Dowling, Tenderfoot Films, 2016, available on UTube.
Mongton in 'BANSHEE BLACKTOP' written and directed by Sean Garland, Long Island Bridie Films, 2015. Available through Amazon Films.
Eddie in TV drama 'CHIMERA' directed by Lawrence Gordon Clarke for Zenith Films, 1993.
Peter Dubois in 'ROBIN HOOD: PRINCE OF THIEVES' staring Kevin Costner directed by Kevin Reynolds, Morgan Creek Productions, 1991.
Ronnie in 'PIGS' directed by Cathal Black, Strongbow Films, 1984.​
John Fleming in 'ANNE DEVLIN' directed by Pat Murphy, Aeon Films, 1984. ​

Tim (lead role) in 'Choosing' RTE Drama
​
'Liam Halligan as Tim is outstanding.'
Val Mulkerns, Irish Times 22/01/1982
Liam playing lead roles in two RTE dramas 'Choosing' and 'Amy' directed by Paul Cusack.