Liam Halligan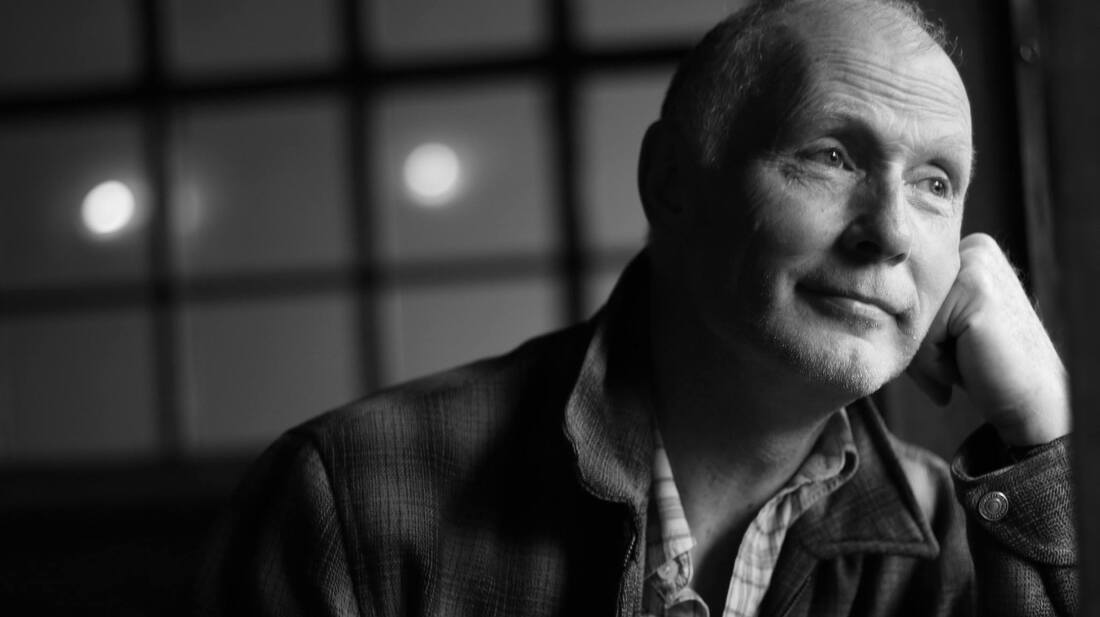 ​PHOTO: (above) LIAM HALLIGAN BY SEAN GARLAND 2020.
Liam is an established theatre director, acting tutor and lecturer based in Ireland.
He has received numerous awards from the Irish Arts Council to develop his work over the past twenty years.
Recent awards includes a Touring Grant for a national tour of Take Off Your Cornflakes (2020),
a Professional Development Award to carry out research into Stanislavski's 'Active Analysis' 2021 and an Agility Award to workshop a new play at Draíocht Arts Centre in January 2022.
---
Director
Liam initially trained as an actor at the
Stanislavski Studio, ​Focus Theatre, Dublin
with
Deirdre O'Connell
and
Mary Elizabeth Burke Kennedy
from 1976 - 1980.
He was awarded a first class honours MA in Drama & Performance from University College Dublin in 2018.
He has worked in the UK as an actor with internationally renowned directors including
Sir Hugh Hunt,
​
Declan Donnellan, Phyllida Lloyd
,
James Macdonald
,
Annie Castledine, John Doyle
and
Laurence Boswell.
AWARDS
Liam was nominated for an Irish Times Theatre Award as Best Director
for two productions:
Speaking in Tongues
by the Australian playwright Andrew Bovell (Quare Hawks)
​
Rashomon
​
based on two stories by Ryunosuke Akutagawa (Storytellers)
Dream of a Summer Day
adapted by Liam from the writings of Lafcadio Hearn (Storytellers)
​nominated for an Irish Times Theatre Award for
Best Lighting (Marcus Costello) and Costume Design (Chisato Yoshimi).
Winter Came Down
by Michael McCuddan (Quare Hawks) nominated for a Stewart Parker Award as Best New Play.
ACTING AWARDS
Played Ross in Cheek by Jowl's 'Macbeth' which won an Olivier Award for 'Best Production' in 1987. The production toured the UK, played at the Donmar London and was revived for the Lyric Hammersmith.
Won 'Most Promising Young Actor' from the Evening Press Theatre Awards, Dublin in 1979. These awards were the precursors to the Irish Times Theatre Awards.


REVIEWS
A further selection of Acting and Directing reviews is available on the next page.

CURRENT WORK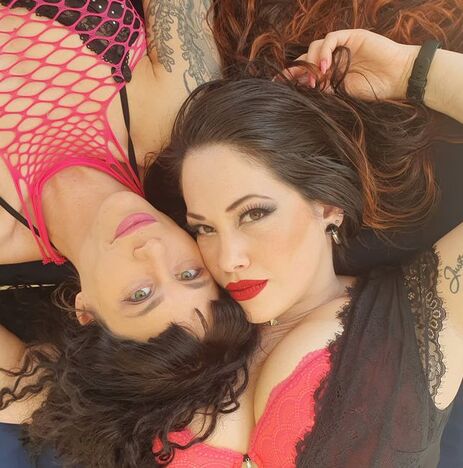 Photo by Shauna Maher
Delighted to say that this short version of FLUFF will be presented by the Dublin Fringe Festival
at the Black Box, Smock Alley, Dublin from 20 - 24 September.
Details www.fringefest.com
FLUFF
is a hard hitting new piece of work set in a Dublin strip club.
You are invited into the world of Lola and Carli, ready to share their thoughts on money, sex and power. This play will challenge your beliefs around sex work -
and show you how it's done.
Cast: Shir Madness, Aaron Lockart and Lianne O'Hara.

Director: Liam Halligan
Sound: Denis Clohessy
Lighting: Eoin Lennon Set: Kieran McBride
Costumes/Make Up: Shauna Maher SM: Michelle Barry
Lianne O'Hara is a published poet and short story writer.
In 2020, she was selected for the Poetry Ireland Introductions Series, featuring a reading at International Literature Festival Dublin, and awarded a Literature Bursary from the Arts Council of Ireland.
FLUFF was selected for development by
FringeLab50


We are planning to integrate feedback from our audiences at DFF to create a full length piece of theatre which we hope to tour nationally and abroad next year.
LOST HEARTS
by M.R. James
adapted by Michael James Ford and Stewart Roache
Cast: Bairbre Ní Chaoimhe, Kyle Hixon and Michael James Ford.

This is a Bewley's Café Theatre Production
17 Oct - 5 Nov at 1.05 Mon to Sat.
www.bewleyscafetheatre.com
New Work in Development...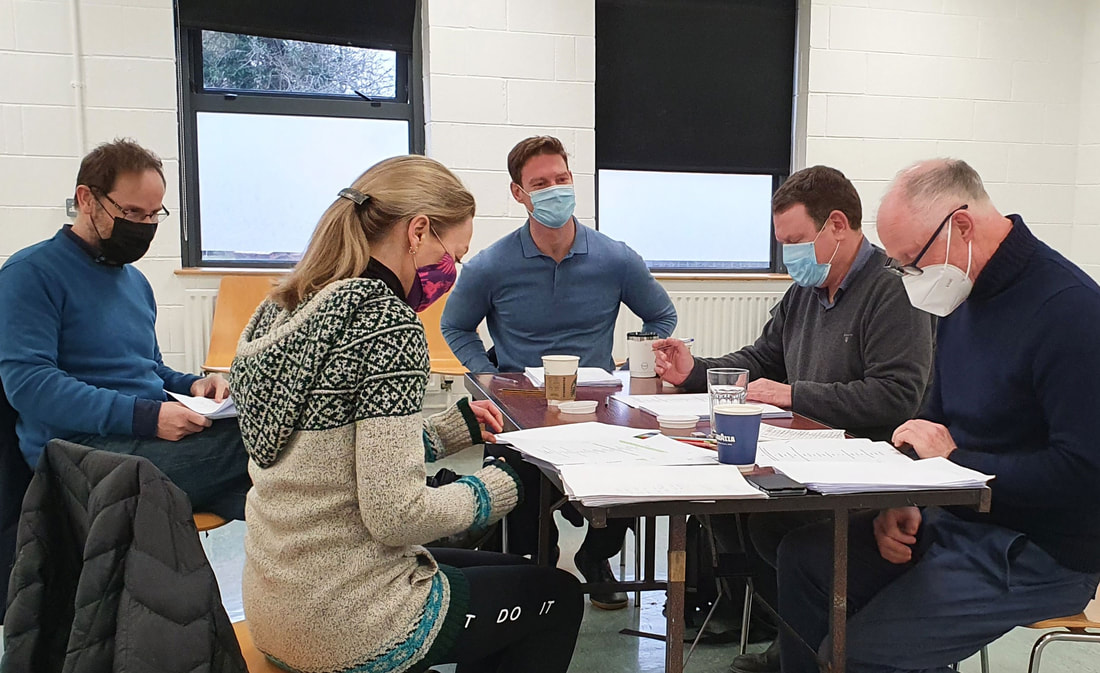 Photo: Alex Cahill
OLD BOY
by Leo Lynch

Set in the Headmaster's Office of a prestigious boy's secondary school run by a religious order in 1982 three teachers attempt to deal with an allegation made against one of their colleagues.
Over the course of one day, in three intense scenes, the play examines the insidious 'culture of silence' that existed at the time.
How do three opposing characters deal with this situation?
Can these well meaning people be aware of what is happening under their noses? Are questions asked? Are they answered?
What are the consequences?

​Thanks to an Arts Council Award and Artist Development support from Draíocht Arts Centre I am conducting script development with actors Barry John Kinsella, Ronan Leahy and Lorna Quinn starting in in January 2022.
The process will include interviewing ex-teachers who have worked in secondary schools in the 1980s.

The play was accepted into Fishamble's New Play Clinic in April 2022.
Liam worked with the writer Leo Lynch, dramaturg Gavin Kostick and actors Peter Gaynor, Lorna Quinn and Ian Toner.
This was an extremely useful day which has given us total confidence in the play.
Work in 2021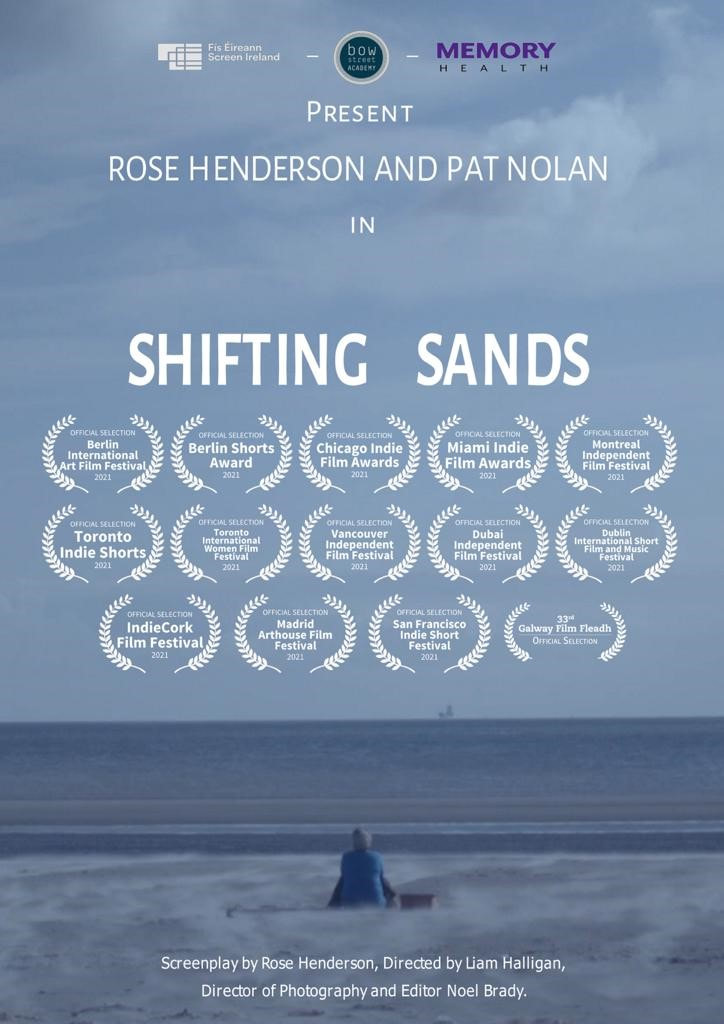 Shifting Sands written by Rose Henderson and directed by Liam Halligan
was selected for the Galway Film Fleadh in July 2021
and was screened to a live audience in
Cork's Gate Cinema in September at
as part of the Cork Indie Film Festival

The film is based on our very successful stage play Take Off Your Cornflakes.
Cast: Rose Henderson and Pat Nolan
with Sorcha Furlong, Clare Monnelly and Helena White.

Cinematography/Editing by Noel Brady. Music by Denis Clohessy.
Production Manager: Miriam Duffy.
​ Funded by Screen Ireland and Memory House
​with support from the Civic Theatre.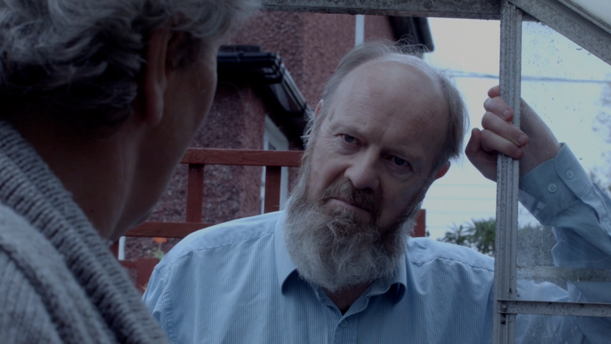 Photo: Pat Nolan and Rose Henderson during filming.
Tour 2021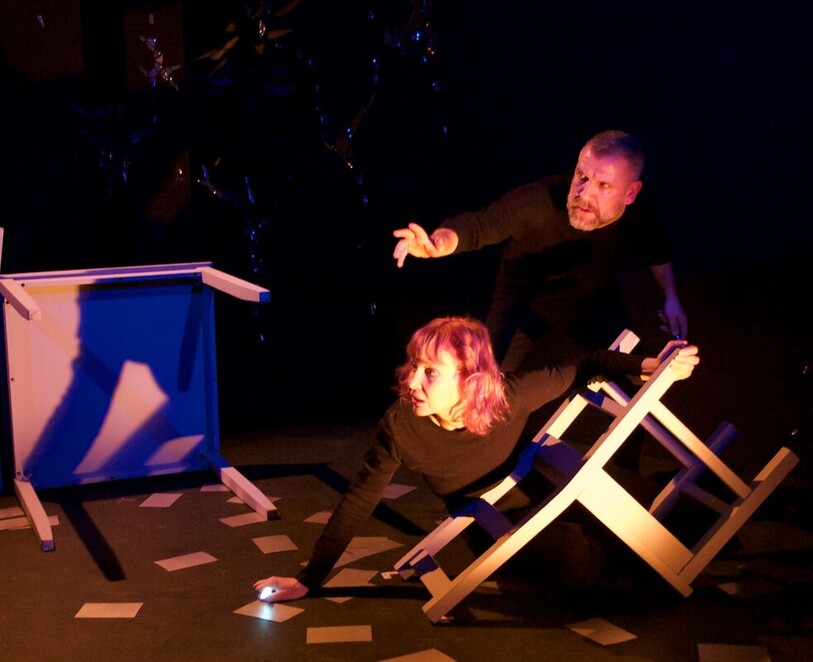 HEATHER
​by Thomas Ecclesshare
for
Bewley's Café Theatre
Dublin.

'Expertly directed'
The Sunday Times
​HEATHER opened to rave reviews in February 2019 and was revived for a second run in May. It was invited to the Belltable Arts Centre Limerick in January 2020 and to the Civic Theatre Tallaght in March.
Our Civic was cancelled due to the pandemic.

However, despite covid restrictions, I was delighted that we managed to tour to...
Civic Theatre Dublin 19 & 20 Oct
Watergate Theatre Kilkenny 28 Oct
Backstage Theatre Longford 30 Oct
Droichead Arts Centre Drogheda 4 Nov
and
Riverbank Arts Centre Newbridge 9 Dec
(Newbridge cancelled because of last minute covid protocols)

Cast: Aenne Barr and Dermot Magennis.
Music composition by Denis Clohessy
Set Design by Kieran McBride, Lighting by Colm Maher
Stage Manager is Michelle Barry.
Performance Analysis
June 2021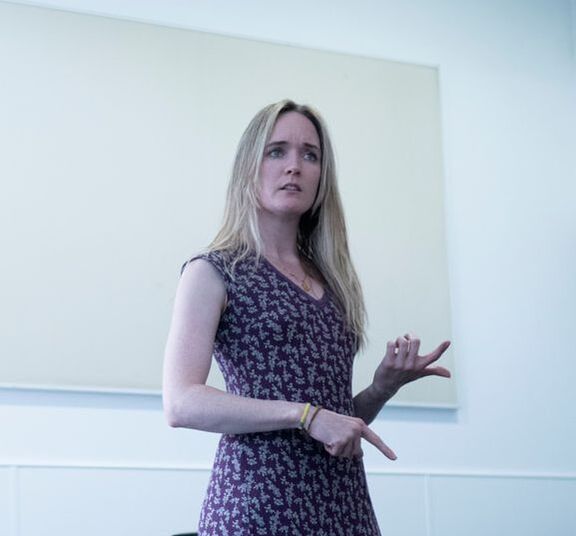 Anna Sheils-McNamee as Yelena. Photo by Sean Garland
​Thanks to the Irish Arts Council Liam was able to work in Dublin City Council's rehearsal space The Lab in Dublin with actors Anna Sheils-McNamee and Ronan Leahy for a two-week practical exploration into Stanislavski's 'Active Analysis' approach to rehearsals.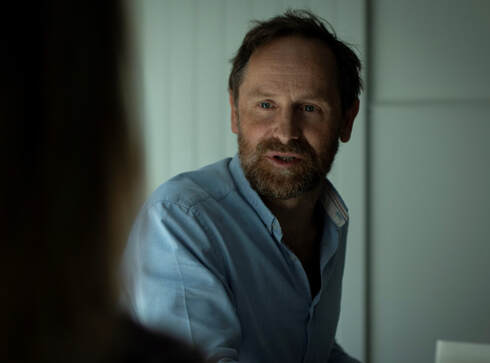 Ronan Leahy as Dr. Astrov. Photo by Sean Garland
The aim was to look at issues around 'line learning' and attempt to transform them into a more creative and positive approach to bringing a text based scene to performance level.
We worked on a scene between Yelena and Dr. Astrov from Chekhov's
Uncle Vanya
. From initial 'silent' improve to 'one phrase' improve to short 'action' motivated improves the actors gradually soaked-up the words of the scene line perfect. It evolved into a very practical and simple use of Stanislavski's teachings allowing the actors to completely 'own' their performance and to keep total spontaneity in the air while absolutely following the structures of the scene. They found 'character' by examining the thought process that is simply revealed in the text. A
lso the choreography of the scene came together quite organically.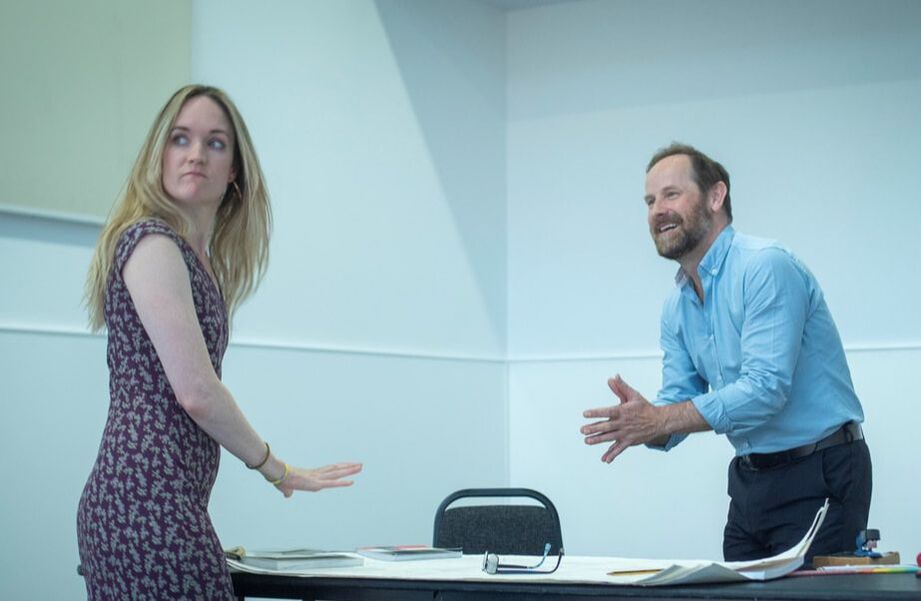 Anna Sheils-McNamee and Ronan Leahy. Photo by Sean Garland.
A wonderful part of the process was meeting with Abbey actress Máire Ní Ghráinne. Máire played Dunyasha in the Abbey's famous 1968 production of The Cherry Orchard with Siobhán McKenna and Cyril Cusack, directed by the renowned Russian director Maria Knebel. Madame Knebel was one of Stanislavski's last students. She formulated 'active analysis' based on the last three years of Stanislavski's explorations and used this approach in her own work. In 1958 she was awarded the title People's Artist of the USSR for her achievements in theatre.
​
Dr. Cathy Leeney of UCD's Drama Department came to view and discuss our final 'work-in-progress'. She remarked how alive, full and immediate it was. She was very eager to see a full production of the play using this approach.
​Let's hope we can make that happen!
Aenne Barr, Dermot Magennis 'Heather' Belltable Arts Centre Limerick 2020. Photo: Angie Steele.
Some recent productions:
TAKE OFF YOUR CORNFLAKES
​by Rose Henderson & Pat Nolan
A Show-in-a-Bag production for Fishamble Theatre Company.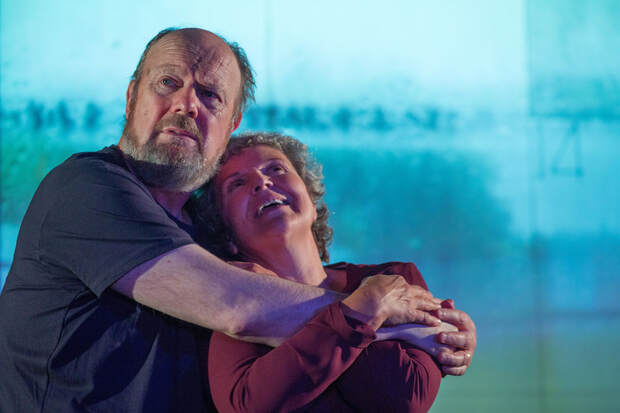 Photo: Pat Nolan and Rose Henderson by Toshi Sakauchi.
'THIS SHOW HAS IT ALL. PLAYED TO PERFECTION.'
Emer O'Kelly, Sunday Independent
​
Produced for Dublin Fringe Festival 2017 receiving excellent reviews and went on to tour nationally in 2018.
Performances in 2019 included full houses at the Pavilion Dun Laoghaire, the Market Place Armagh and St. Patrick's Hall Delvin, Co. Westmeath.
Received an Arts Council Touring Grant for Spring 2020 which we managed to almost complete before corona virus restrictions kicked in.
Home Theatre (Ireland)
FOR DRAÍOCHT ARTS CENTRE IN COLLABORATION WITH DUBLIN THEATRE FESTIVAL, 2018.
Under the overall artistic directorship of Veronica Coburn, Liam was one of six directors, including Conall Morrison, Annabelle Comyn and Louise Lowe, working on 30 new pieces which were performed in 30 homes throughout Dublin 15 all on the same night.
Liam worked with five actor/writers, Bryan Burroughs, Fionn Foley, Sharon Mannion, Neil Watkins and the spokenword artist Felicia Olusanya (aka Felispeaks).
The work transferred to the main stage of Draíocht and was performed over three nights during the
​Dublin Theatre Festival.
Photo (below) of Fionn Foley by Killian Waters from 'Home Theatre'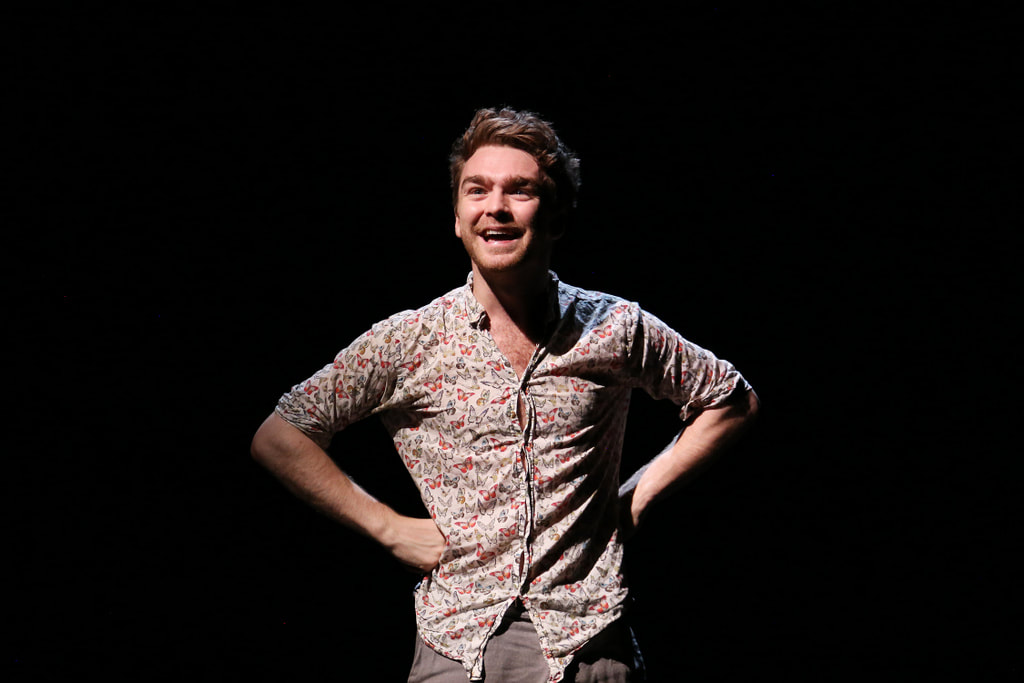 'Foley's performance is flawless under Liam Halligan's sharp direction. Home Theatre presents a wide-angle shot of an entire community in all its rich diversity. It is hard to imagine a more appropriate use of Arts Council funding for "public" projects and deserves its support.'
The Review Hub
The Comedy of Errors Dublin Youth Theatre.
Liam was delighted to be invited to direct the annual DYT summer show at Smock Alley Theatre in 2018.
Photo (below left):

Cast of 'The Comedy of Errors' by Sarah Bragg-Bolger.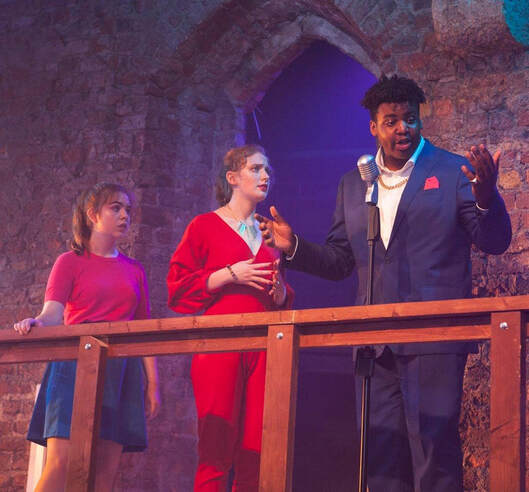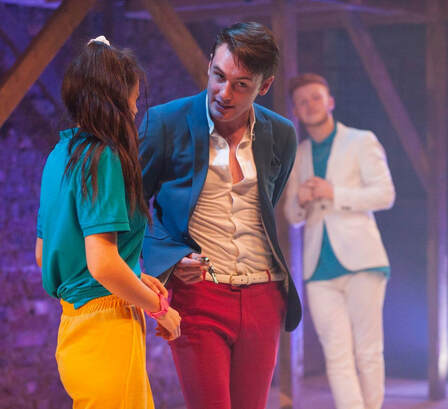 PYGMALION
​by G. B. Shaw
Smock Alley main house, Summer Production 2016.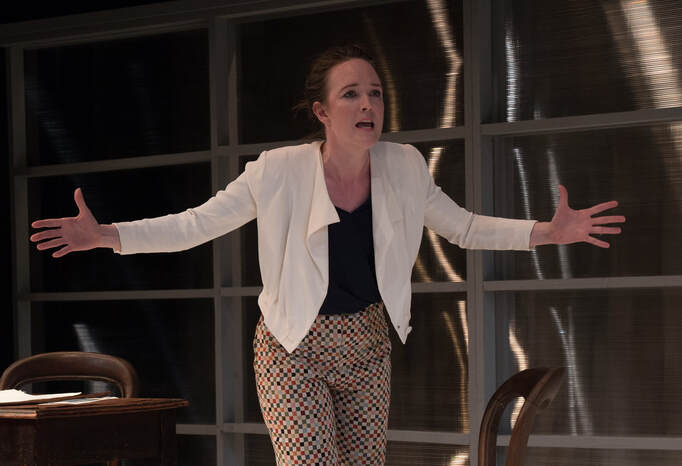 Anna Sheils-McNamee as Eliza
**** Irish Mail on Sunday

'This production exposes the performances behind social divisions and questions whether money takes more than it gives. There are strong performances and Anna Sheils-McNamee brings a frank irreverence to the character of Eliza Doolittle, which is a useful tool to guard against the excessive dramatics of staged hysteria.'
The Sunday Times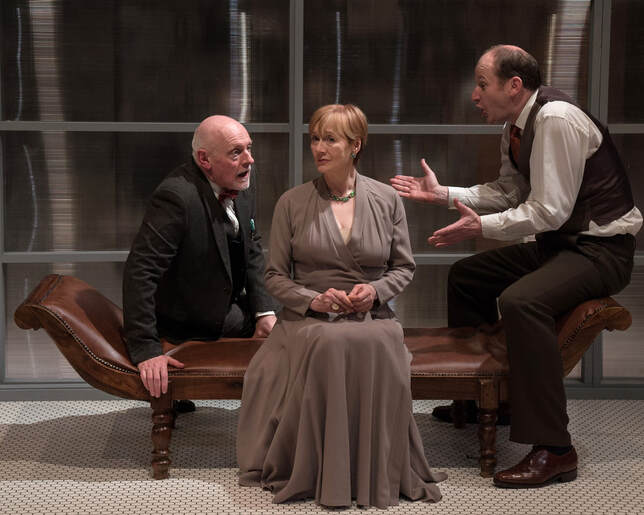 Gerry Byre, Deirdre Monaghan and Paul Meade. Photo: Toshi Sakauchi
'Halligan allows Shaw's play to sing through the centuries and Colm McNally's set costumes could well belong to the living rooms of today. The ingrained attitudes towards class and gender – 'middle-class morality' as Eliza's father puts it - remain surprisingly modern. Anna Sheils-McNamee brings a feisty sauciness to Eliza, ensuring we never envisage her accepting her fate without a fight. Paul Meade's Higgins seems blinded by his own bravado rather than cruelty.
David O'Meara distinguishes himself as Doolittle.'
Sunday Business Post
'This production puts the emphasis firmly on that firecracker social/sexual dialogue and captures the darker mood that takes over in the last act when Eliza realises she's trapped helplessly between two social worlds. Paul Meade is an excellent Higgins, Anna Sheils-McNamee is a feisty Eliza who carries off the Cockney flower girl with panache. Her transformation works perfectly in the final scene. Gerard Byrne gentlemanly Colonel Pickering is a splendid foil to the boorishness of Higgins and Deirdre Monaghan is excellent as Higgins no-nonsense mother, while David O'Meara gets the most out of Eliza's father.'
The Irish Mail on Sunday
See DIRECTING WORK page for previous work with Quare Hawks, Storytellers, Galloglass etc.
---
Acting Tutor and Lecturer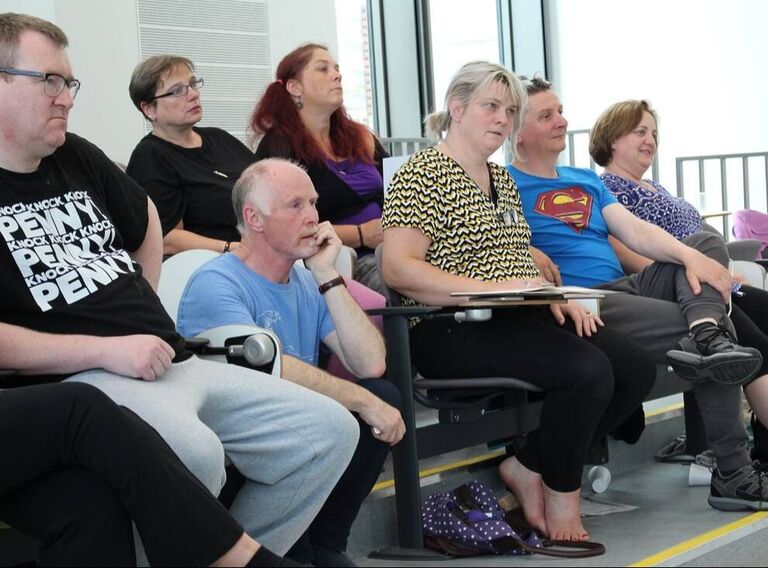 ​
---
Photo (above): Liam iwth YT leaders at Youth Theatre Ireland Workshops 2017. Photo: Alan King.
Liam has been a part-time acting tutor at the Gaiety School of Acting since 2004. He introduces the full-time acting students to Shakespeare.
He taught for the Rose Bruford College on their Foundation Course at the MAC Belfast 2019.
He was a core tutor on ​Tenderfoot at the Civic Theatre for ten years with Veronica Coburn and Gavin Kostick. Tenderfoot is an apprenticeship programme for transition year students funded by the Arts Council and the Civic.

Liam contributes as a part-time lecturer to the MA in Drama and Theatre Practice at


University College Dublin

and to the BA (Hons) in Theatre and Drama Studies for CIT at the

Cork School of Music.
​

He has facilitated a number of workshops with Youth Theatre

groups, including a 3-day Facilitator's Workshop on Shakespeare for Youth Theatre Ireland

at Maynooth University in 2017.

He has directed full-scale Summer productions with Carlow Youth Theatre ('How To Live' 2016), Dublin Youth Theatre ('Comedy of Errors' 2018) and Backstage Youth Theatre Longford ('Future Tense' 2020).

​​
​Slideshow below of work with various students including the GSA, Tenderfoot and Youth Theatre Groups...
---
Acting Work
On stage...
Liam has performed with companies as diverse as the Abbey Theatre, Lyric Belfast, Oxford Stage Company, Cheek By Jowl, Birmingham Rep,
English Dance Theatre,
United British Artists, Theatre Clwyd, Manchester Contact, Torifune Butoh Sha and Gay Sweatshop.
​Liam was delighted to play a cameo role in Andrew Legge's new film
L.O.L.A.
​produced by Cowtown Pictures (2021).
Slideshow below of some of his acting work...
On film...
Work includes the Irish classics Cathal Black's Pigs and Pat Murphy's Anne Devlin.
Liam played Peter Dubois in the hit Kevin Costner movie Robin Hood: Prince of Thieves.
​
He has recently returned to filming in Natalya O'Flaherty's Her Sixteenth Birthday (Tenderfoot Films) and played a lead role in Banshee Blacktop by Sean Garland which is available on Amazon.
​​