ACTING WORK
includes...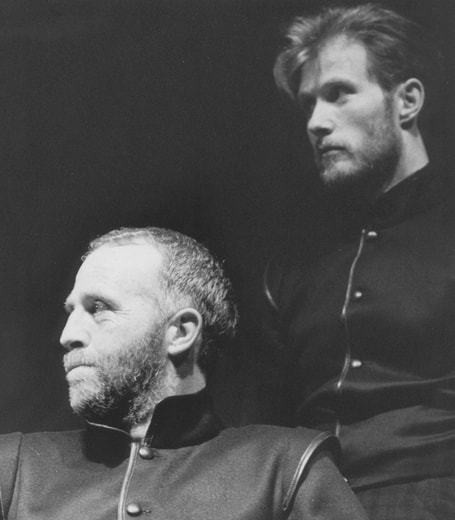 Photo: Liam and Keith Bartlett in Cheek By Jowl's Olivier Award winning 'Macbeth' at the Donmar Theatre, London. Directed by Declan Donnellan, 1987.
Stage Work

Teddy in 'Big Maggie' by John B. Keane directed by Gwenda Hughe at Birmingham Rep, 1993.

Keie in 'The Round Table' directed by Olivia Fuchs at the Lyric Theatre Hammersmith, 1992.

Bentham in 'Juno and the Paycock' directed by James Macdonald, Contact Theatre Manchester, 1991.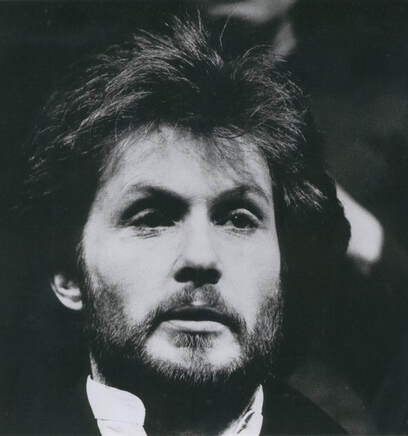 Liam as Lovborg in 'Hedda Gabler' directed by Annie Castledine, Theatr Clwyd, Wales.
PLAYED W.B. YEATS IN 'BOHEMIAN LIGHTS' BY RAMÓN DEL VALLE INCLÁN , DIRECTED BY LAURENCE BOSWELL, GATE THEATRE, NOTTING HILL, LONDON, 1991.

THE MASTER IN 'THE MASTER AND MARGARITA' DIRECTED BY GUY RETALLACK, BATTERSEA ARTS CENTRE, LONDON, 1991.
​
MORRIS IN FUGARD'S TWO-HANDER 'BLOOD KNOT' DIRECTED BY TOPHER CAMPBELL, DERBY PLAYHOUSE, 1990.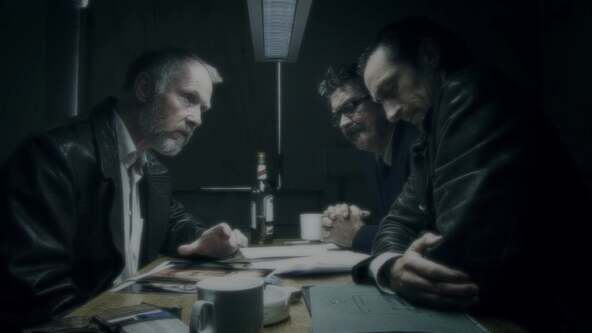 Liam, Frank O'Sullivan, Marcus Lamb in 'Banshee Blacktop' directed by Sean James Garland.
THE PORTER IN 'THE PIGGY BANK' BY EUGENE LABICHE, DIRECTED BY SUSAN TODD AT THE GREENWICH THEATRE, LONDON, 1989.

HOTSPUR IN 'FALSTAFF' (SHAKESPEARE), DIRECTED BY RICHARD WILLIAMS, OXFORD STAGE COMPANY, 1988.

PLAYED ROSS IN DECLAN DONNELLAN'S OLIVIER AWARD WINNING 'MACBETH' FOR CHEEK BY JOWL, UK TOUR, DONMAR LONDON AND LYRIC THEATRE HAMMERSMITH, 1987/8.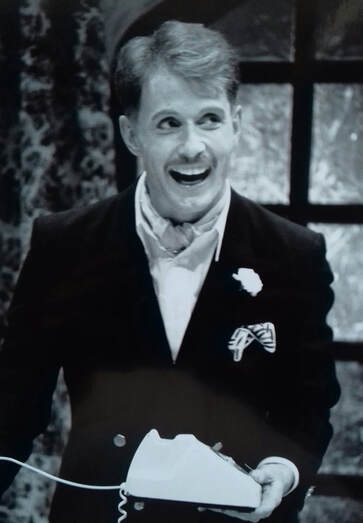 Liam in 'Noises Off' directed by Annie Castledine at Derby Playhouse.
THESEUS/OBERON IN 'A MIDSUMMER NIGHT'S DREAM' DIRECTED BY PHYLLIDA LLOYD FOR THE EVERYMAN THEATRE, CHELTENHAM, UK. 1986.

EILERT LOVBORG IN 'HEDDA GABLER' DIRECTED BY ANNIE CASTLEDINE FOR THEATR CLWYD , 1986.

OWEN IN BRIAN FRIEL'S 'TRANSLATIONS' DIRECTED BY ANNIE CASTLEDINE FOR THEATR CLWYD, 1985.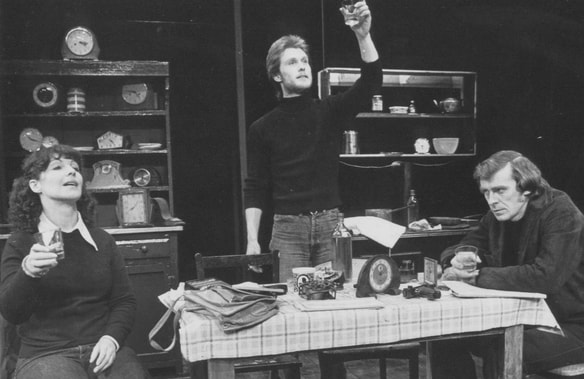 Photo: Stella McCusker, Liam Halligan, Ian McElhinney in Eugene McCabe's 'Victims', The Lyric Theatre, Belfast.
THE SOLDIER IN 'THE SOLDIER'S TALE' DIRECTED BY YAIR VARDY FOR THE ENGLISH DANCE THEATRE, 1984.

THE BELLMAN IN LINDSAY ANDERSON'S 'THE PLAYBOY OF WESTERN WORLD' FOR UNITED BRITISH ARTISTS, 1984.

Hovstad in 'An Enemy of the People' directed by Jonathan Petherbridge, Duke's Playhouse, Lancaster, 1983.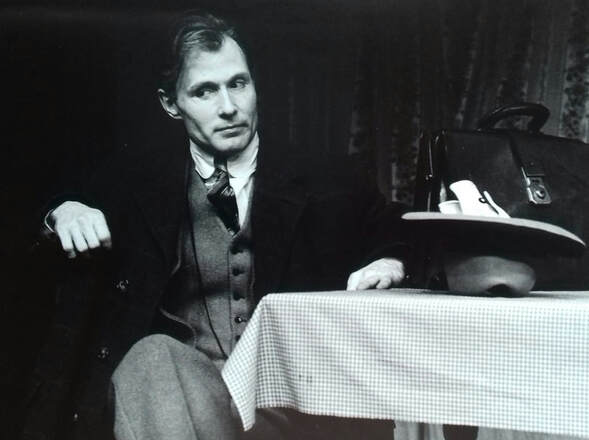 Liam as Bentham in 'Juno and the Paycock' directed by James Macdonald, Contact theatre, Manchester, 1991.
JAMES IN THOMAS KILROY'S VERSION OF 'THE SEAGULL' DIRECTER: MICHAEL JOYCE, LYRIC THEATRE BELFAST, 1983.

ANDY IN 'DAN PADDY ANDY' BY JOHN B. KEANE DIRECTED BY SEAN MCCARTHY, GATE THEATRE, DUBLIN, 1981.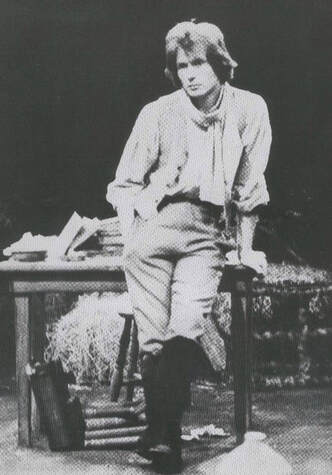 Liam as Owen in Brian Friel's 'Translations' directed by Annie Castledine at Theatre Clwyd. 1985.
CLAUDE DE PUSSY IN 'THE CAT'S OPERA' DIRECTED BY BEN BARNES, PEACOCK THEATRE, DUBLIN, 1981.

THE SINGER IN O'CASEY'S 'RED ROSES FOR ME' DIRECTED BY SIR HUGH HUNT, ABBEY THEATRE, DUBLIN, 1980.

A number of roles at the Focus Theatre, Dublin e.g. Ernest in D.H.Lawrence's 'A Collier's Friday Night', Oswald in Ibsen's 'Ghosts', The Husband in 'Schnitler's 'La Ronde' and Lingstrand in Ibsen's 'The Lady From the Sea'.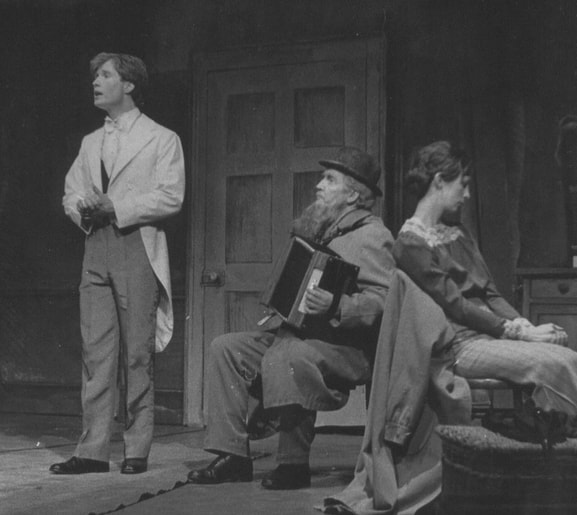 Photo: Liam in 'Red Roses for Me' with Ray McAnally and Ingrid Craigie, d

irected by Sir Hugh Hunt,

Abbey Theatre, Dublin.
FILM AND TELEVISION INCLUDES...

The Father in the two-hander 'HER EIGHTEENTH BIRTHDAY' by Natalya O'Flaherty, directed by Paul Dowling, Tenderfoot Films, 2016, available on UTube.

Mongton in 'BANSHEE BLACKTOP' written and directed by Sean Garland, Long Island Bridie Films, 2015. Available through Amazon Films.

Eddie in TV drama 'CHIMERA' directed by Lawrence Gordon Clarke for Zenith Films, 1993.

Peter Dubois in 'ROBIN HOOD: PRINCE OF THIEVES' staring Kevin Costner directed by Kevin Reynolds, Morgan Creek Productions, 1991.

Ronnie in 'PIGS' directed by Cathal Black, Strongbow Films, 1984.

John Fleming in 'ANNE DEVLIN' directed by Pat Murphy, Aeon Films, 1984.
Liam playing lead roles in two RTE dramas 'Amy' and 'Choosing' directed by Paul Cusack.